We are delighted to announce that the Kepler Network, the pre-mainnet for the decentralised SubQuery Network, will be launching on the Polygon network, the Layer-2 scaling solution for Ethereum, on the 1st of May 2023.
This announcement builds on the momentum over the past few weeks with our integration with Ethereum and Polygon and our announcement of an airdrop for initial Kepler Network participants.  
The decision to choose the Polygon network occurred after months of testing on the new indexing support in our SDK, the smart contracts for the SubQuery Network, and the existing SubQuery Network projects that run our user interfaces. After this process, plus other benefits highlighted below, we believe it is the best choice for the future.
"Data indexing is a critical component to building advanced dApps on Polygon and other networks. We're thrilled to have SubQuery join the Polygon ecosystem and deploy their decentralised Kepler network here." - Ajay Venkatesh, SVP Developer Studio at Polygon Labs
We are also pleased to announce phase 1 of the Kepler Network airdrop will be happening on May 1st 2023 as well (more on that below).
KEPLER NETWORK
As a refresher, The Kepler Network is the pre-mainnet of the SubQuery Network, and will enable users to progressively bootstrap and test the decentralised features of The SubQuery Network. As far as our team is aware, nobody else has taken quite the same approach as we plan to do with Kepler and the SubQuery Network.
Kepler will run off the same smart contracts that our mainnet will do, the key difference is that certain features will be slowly enabled and brought online in a sustainable way.
Just like when launching a rocket, there's thousands of checks and systems that need to take place in a carefully choreographed sequence before lift-off. When launching a huge decentralised data indexing network, there are many steps that we need to follow to ensure the launch is a success
The first users of the Kepler Network will be Indexers (Phase 1) who will test their own technical expertise against their peers, whilst indexing real data that has been migrated from SubQuery's existing Managed Service.
Over time we'll introduce Delegators (Phase 2), followed by Consumers, who will be able to stake kSQT against their favourite indexers, receive rewards, and onboard other SubQuery projects into Kepler.
At this stage, Kepler will morph into the SubQuery Network. We expect this to happen largely seamlessly, as the contracts won't change that much, and kSQT can be burned for SQT. From this point, the future of decentralised data indexing will be live.
WHY POLYGON
We've been in search of the best home for the SubQuery Network for a long time. During our search, we've always kept three things in mind when looking for the best EVM network.
Fast, Performant, and Scalable: Our plans for the SubQuery Network are vast, and so we need the best technical foundation for us to deploy our smart contracts and scale the network to serve billions of API calls for data to millions of recipients each day. We've been testing SubQuery's existing smart contracts across many different chains since the close of the SubQuery Frontier test network, and Polygon has come ahead as the best chain from a technical standpoint
A hub to other chains: SubQuery has some of the widest chain support in Web3 - growing to support over seven Layer-1s in just a year, and with the aspiration of going even further this year. We are looking for a hub that can act as a central point for projects from across these networks to come together in a data marketplace. Polygon Labs' efforts in building bridges and other integrations to Cosmos, Polkadot, Avalanche, NEAR, and others give us confidence that users will be able to access the SubQuery Network from wherever they need, easily and efficiently.
Additional tools and services: Polygon Labs has been working on some excellent on-chain libraries, tools, and communities that are synergistic to SubQuery's own needs. This includes Polygon ID, an identity management service that will allow participants in the SubQuery Network to verify the identity of indexers that they are retrieving data from or delegating to, and reduce likelihood of indexers misbehaving. Polygon Labs is also focusing on zero knowledge (ZK) proofs to drive down transaction cost and increase throughput and finality by sending frequent validity proofs to the Ethereum mainnet. We're keeping a close eye on what they are planning on building with their zkEVM scaling solution.
Community Size and Engagement: We also believe that the number of developers in the Polygon ecosystem can help benefit the growth of SubQuery in the future with a huge community of potential customers and contributors to our open-source SDK.
---
We've been working closely testing out the Polygon network for the past few months, including our new indexing support in our SDK, the smart contracts for our SubQuery Network, and the existing Network SubQuery projects that run our UIs. We've just completed a full suite of tests, and are extremely confident that our decentralised network will be fast, performant, and ultimately the leader in the decentralised data industry.
KEPLER NETWORK AIRDROP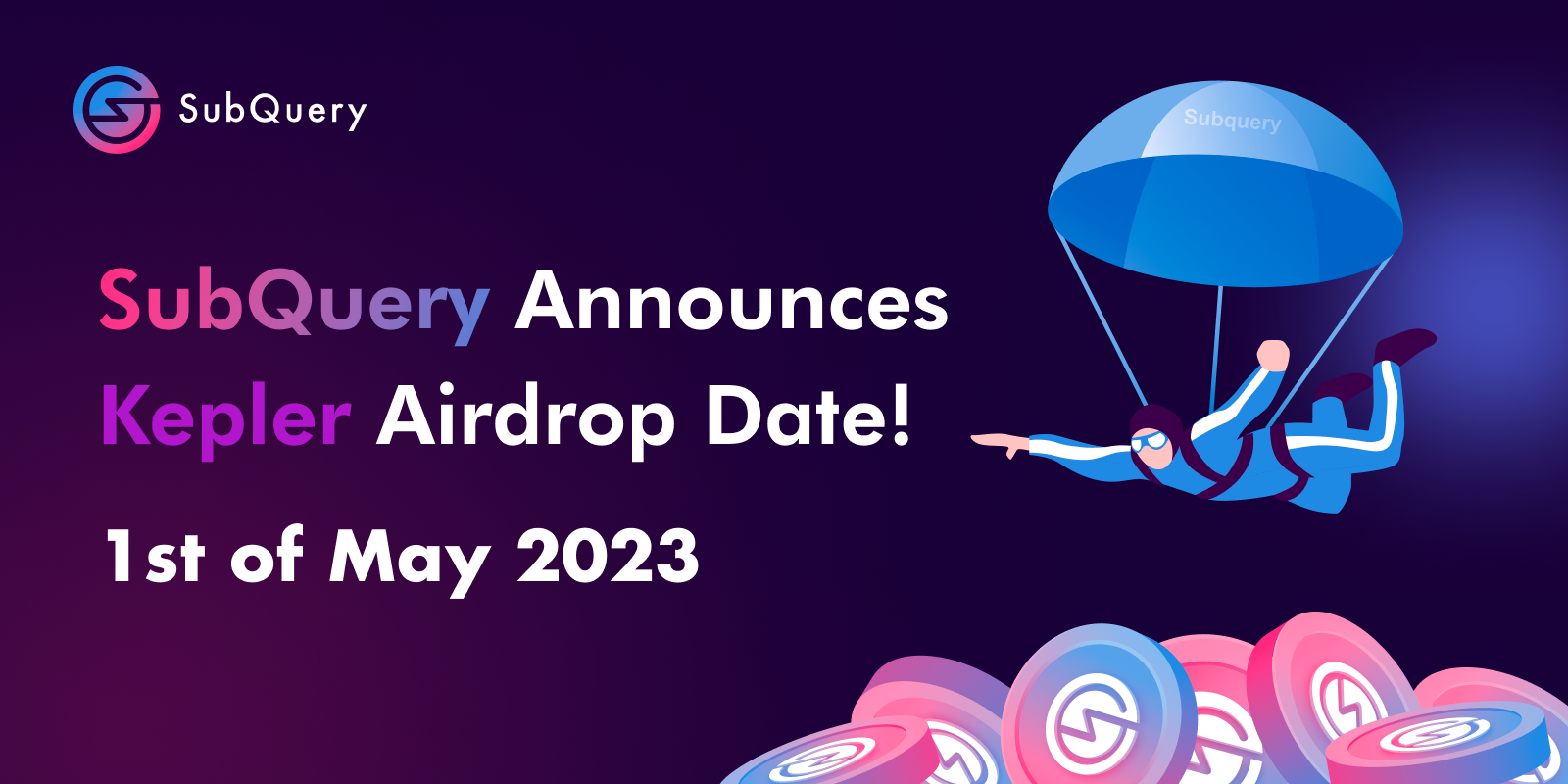 With the Kepler Network Airdrop we are rewarding our devoted community for their early support and adoption of the network. We will airdrop kSQT tokens to our Indexers and Ambassadors in two phases. Eligible recipients can see exactly how much kSQT they will be airdropped, and claim them, through the easy UI of our Airdrop app.
Indexers can check if they are eligible to receive the airdrop here.
IN SUMMARY
Today (26th April) - Announced the launch date and location of Kepler Network
Today (26th April) - We've launched our Airdrop App to allow eligible Airdrop participants to check and claim their tokens
Tomorrow (27th April) - Release indexer guides so Kepler Indexers can start indexing dictionaries over the weekend
Monday (1st May) - Kepler Network goes live.
Monday (1st May) - Phase 1 Airdrop, and release full indexer documentation.
Start migrating real SubQuery project traffic from our Managed Service to the Kepler Network.
Fine-tune parameters of the network (including reward rates) and monitor stability
Onboard Delegators (Ambassadors)
Onboard Consumers
Deploy SubQuery Network Mainnet and allow kSQT to SQT token swaps
Retire the Kepler Network later this year and launch the SubQuery Network Mainnet
If you have any questions, please reach out to the team in our Discord.
About SubQuery
SubQuery is a blockchain developer toolkit facilitating the construction of Web3 applications of the future. A SubQuery project is a complete API to organise and query data from Layer-1 chains. Currently servicing BNB, Ethereum, Polygon, NEAR, Polkadot, Avalanche, Algorand, Cosmos and Flare projects, this data-as-a-service allows developers to focus on their core use case and front-end without wasting time building a custom backend for data processing activities. In the future, the SubQuery Network intends to replicate this scalable and reliable solution in a completely decentralised manner.
​​Linktree | Website | Discord | Telegram | Twitter | Matrix | LinkedIn | YouTube