At SubQuery, we're thrilled to announce complete support for the Polygon network. Since our recent announcement that we support Ethereum, it was only natural to extend this coverage to Polygon, which typically offers faster and cheaper transactions compared to the Ethereum network.

Polygon is designed to run decentralised applications (dApps) built for Ethereum, enabling developers to easily scale their dApps to run on faster, more efficient infrastructure and unlock access to Web3 commerce, decentralised finance (DeFi), NFTs and more for a broad set of new users. SubQuery projects are easily ported to Polygon from Ethereum, providing a common infrastructure tool that can be used across both networks.

We're always striving to provide developers with the most comprehensive and efficient indexing solutions possible. Despite being a beta release, SubQuery has already proven to be faster than The Graph on Ethereum and its layer-2s, offering Polygon developers another decentralised alternative with the impending launch of the SubQuery Network. That's why we're thrilled to announce our latest integration with one of the most exciting Layer-2 scaling solutions in the Web3 space.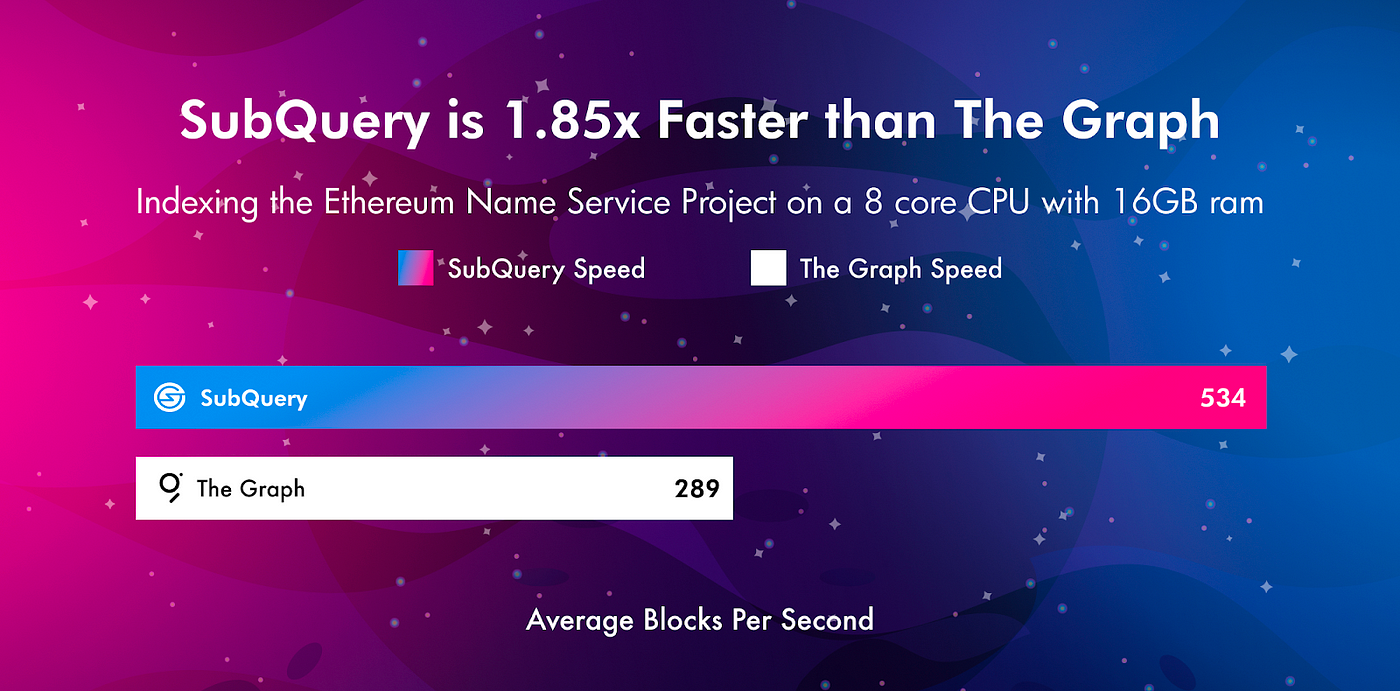 SubQuery's flexible, fast, open, and decentralised data indexing solution provides blockchain developers with the tools needed to easily organise and query on-chain data for their protocol and applications. Abstracting the backend, SubQuery provides a custom API and lets developers focus on product development and user experience rather than building their own indexing solutions.
"We are thrilled to announce the integration of our data indexer with Polygon, one of the most thriving web3 ecosystems. SubQuery shares Polygon's focus on building solutions that bring mass adoption whilst also improving the developer experience. We believe this integration will open up exciting opportunities for the Polygon ecosystem, and we can't wait to see what dApps developers build with our fast, flexible, and open indexing technology." - Sam Zou, Founder and CEO of SubQuery.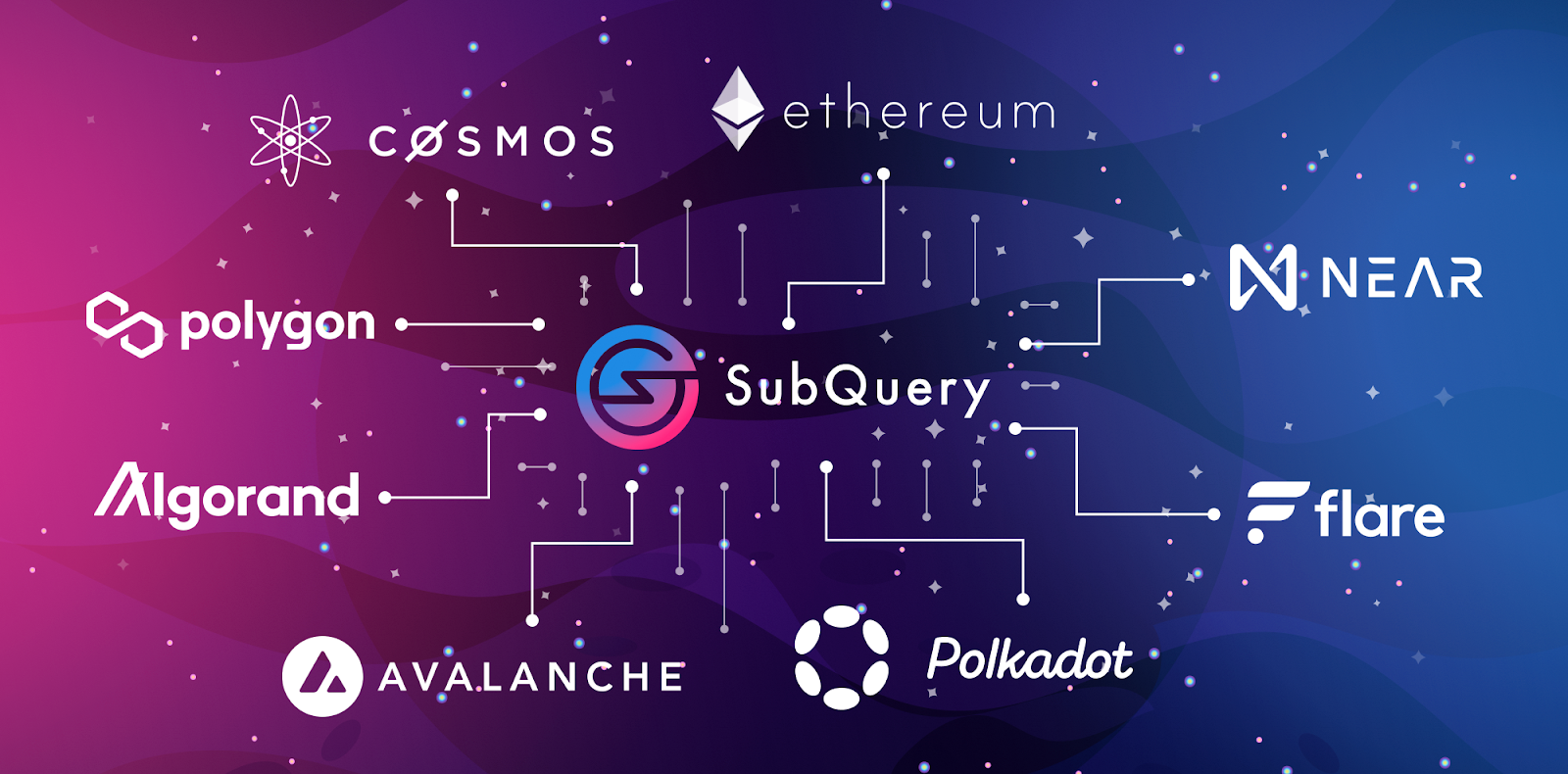 Polygon developers will benefit from the superior SubQuery indexing experience, including the fast open-source SDK, tools, documentation, and developer support that the SubQuery ecosystem provides. Polygon is also supported in SubQuery's enterprise level managed service, which provides enterprise level infrastructure hosting and handles hundreds of millions of requests each day.
Since our founding in 2021, SubQuery has established itself as the leading data indexing solution for non-EVM chains and has achieved rapid growth by serving hundreds of millions of queries each day to leading projects within Cosmos, Polkadot, Algorand, NEAR, Avalanche, and Moonbeam. The success in Polkadot spurred SubQuery to integrate with other Layer-1 blockchains to become a truly universal solution, which will extends to other EVM chains and Layer-2 scaling solutions, like BNB and Arbitrum in the future.  

SubQuery is currently focused on decentralising and tokenizing the protocol to build the SubQuery Network. The SubQuery Network will index and service data from projects to the global community  in an incentivized and verifiable way and support indexing Polygon projects, and those from any other supported Layer-1 from the outset.
The Polygon integration is live and ready to be used in production by projects across the network. We're working closely with a few select customers to test and optimise this integration - if you would like to join SubQuery as a Polygon launch partner or receive help migrating from The Graph, please reach out to sean.au@subquery.network.
Key Resources
About Polygon
Polygon is a Layer 2 scaling solution for Ethereum, offering faster and cheaper transactions compared to the Ethereum mainnet. It is an open-source project aimed at improving the usability and accessibility of decentralized applications (dApps) on the Ethereum network. Polygon allows developers to create dApps with their preferred programming languages while maintaining compatibility with the Ethereum network.
Website | Discord | YouTube | Twitter | Telegram
About SubQuery
SubQuery is a blockchain developer toolkit facilitating the construction of Web3 applications of the future. A SubQuery project is a complete API to organise and query data from Layer-1 chains. Currently servicing Ethereum, Polygon, NEAR, Polkadot, Avalanche, Algorand, Cosmos and Flare projects, this data-as-a-service allows developers to focus on their core use case and front-end without wasting time building a custom backend for data processing activities. In the future, the SubQuery Network intends to replicate this scalable and reliable solution in a completely decentralised manner.
​​Linktree | Website | Discord | Telegram | Twitter | Matrix | LinkedIn | YouTube