As part of the upcoming rollout of the SubQuery Kepler Network which we anticipate to occur in the next few weeks, we are pleased to announce the first batch of Kepler Network airdrop recipients.
kSQT Token
kSQT is the name of the token that is used by participants who operate within the Kepler Network. This token mimics the properties of the eventual SubQuery Network token (SQT) in that tokens will be rewarded to Indexers for performing tasks and Delegators can allocate their tokens to indexers to secure the network and receive rewards.

In return for being early adopters and providing value to existing SubQuery clients, Kepler participants will enjoy incentives via kSQT which will later be burnt in exchange for the SubQuery token (SQT) upon the mainnet launch later this year.

While kSQT will not have transfer restrictions, we do not envision it as a free-float token, hence will not provide or support liquidity. kSQT will have a controlled supply that is intended to be just enough for the minimum viable network running with limited capabilities.

Airdrop Eligibility
The supply of kSQT will be heavily restricted and will be airdropped to Indexers and Ambassadors to help launch the network and show our appreciation for their support.

The tokens will be airdropped in two phases, with the first allocation to Indexers near Network launch. The dates for the second phase will be announced once we're confident that indexers have onboarded correctly and the Kepler Network is running well.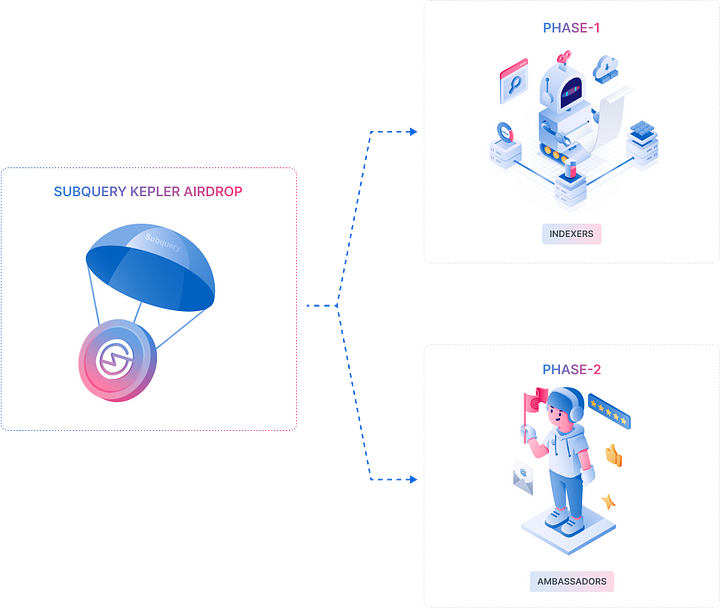 - Phase 1 (Indexers): The main recipients will be Indexers selected from the SubQuery Frontier testnet who participated and received sufficient points (Phase 1). You can check if you are an eligible indexer on this list here.

- Phase 2 (Ambassadors): Ambassadors will receive tokens to act in the role of Delegators. This is only awarded to ambassadors that are not eligible for the Phase 1 airdrop (for Indexers) and after Kepler is running successfully. Eligible wallets will be shared in the SubQuery Ambassador Discord Channel.
How Can I Claim My Airdrop?
The airdrop will be claimable through our Airdrop app, which will be accessible at airdrop.subquery.foundation. Soon, you'll be able to see exactly what kSQT you will be airdropped, and claim these all through this easy UI.

For now, you can check if you are eligible to receive the indexer airdrop here.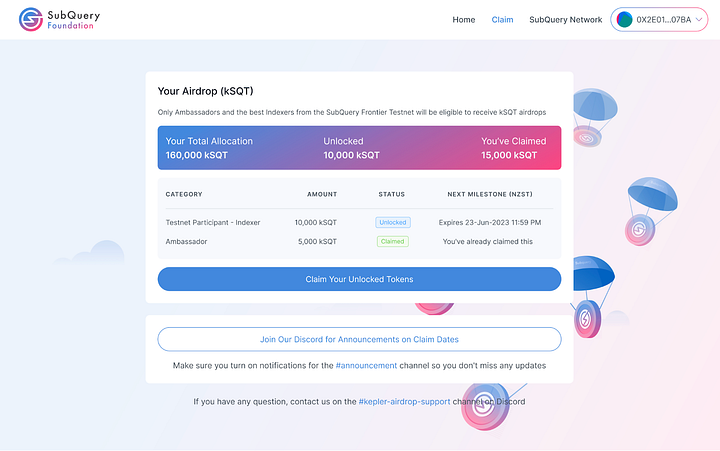 Eligible users will be able to claim their kSQT airdrop tokens for a three month period from the date of our Kepler network launch. You will lose access to any airdrop tokens if you do not claim them by the end of the period. All unclaimed kSQT will be burnt.

What is the Kepler Network?
The Kepler Network is the pre-mainnet of the SubQuery Network, and will enable users to progressively bootstrap and test the decentralised features of The SubQuery Network.

Kepler will run off the same smart contracts that our mainnet will do, the key difference is that certain features will be slowly enabled and brought online in a sustainable way.

The first users of the Kepler Network will be Indexers (Phase 1) who will test their own technical expertise against their peers, whilst indexing real data that has been migrated from SubQuery's existing Managed Service.

Over time we'll introduce Delegators (Phase 2), followed by Consumers, who will be able to stake kSQT against their favourite indexers, receive rewards, and onboard other SubQuery projects into Kepler.

At this stage, Kepler will morph into the SubQuery Network. We expect this to happen largely seamlessly, as the contracts won't change that much, and kSQT can be burned for SQT. From this point, the future of decentralised data indexing will be live.

To summarise, the three main outcomes of Kepler are:
Provide an environment for real indexers and delegators to onboard and earn real rewards.
Seamlessly and progressively migrate real SubQuery project traffic from our Managed Service to the decentralised Kepler Network.
Allow us to continue to fine-tune parameters of the network (including reward rates).

SubQuery Airdrops
To avoid any confusion, this is not the first or only airdrop from SubQuery. Per our previous communications, we will conduct a retrospective reward distribution sometime closer to the actual minting of the SQT tokens. This will take place after the public sale, around the launch of the SubQuery mainnet.
The airdrop will be tailored to Discord community roles and the level of input and participation from each of the roles. The airdrop will also cover the Frontier Testnet participants from seasons 1-3, respective to their performance.
The airdrops previously awarded to Gleam prize winners, SubQuery Grants recipients, hackathon winners, and participants of other community competitions will take place simultaneously with the above.
We will share more precise details about the Kepler Network in the coming weeks. If you have any further questions, please contact the team in our Discord channel.
About SubQuery
SubQuery is a blockchain developer toolkit facilitating the construction of Web3 applications of the future. A SubQuery project is a complete API to organise and query data from Layer-1 chains. Currently servicing NEAR, Polkadot, Avalanche, Algorand, Cosmos and Flare projects, this data-as-a-service allows developers to focus on their core use case and front-end without wasting time building a custom backend for data processing activities. In the future, the SubQuery Network intends to replicate this scalable and reliable solution in a completely decentralised manner.
​​Linktree | Website | Discord | Telegram | Twitter | Matrix | LinkedIn | YouTube