We're proud to announce we've started supporting Injective! Injective is a lightning fast interoperable layer one blockchain optimized for building the next-generation DeFi applications, including decentralized spot and derivatives exchanges, prediction markets, lending protocols, and more. Injective natively uses IBC and is highly-interoperable with multiple prominent layer ones, such as Ethereum, Polkadot and Solana, through a recent Wormhole integration. By utilizing our data indexing technology, Injective users will now have access to a more comprehensive and accurate view of the data on all exchange dApps built on Injective.
Injective will benefit from the full SubQuery experience, including the open-source SDK, tools, documentation, developer support, and other benefits developers receive from the SubQuery ecosystem including SubQuery's managed service, which provides enterprise-level infrastructure hosting and handles over 400 million requests each day.
Sam Zou, the Founder and CEO of SubQuery, said: "Thanks to our integration with Injective, a leading Cosmos Layer-1 blockchain specialized for DeFi applications, Injective is now able to offer their users the most advanced search and discovery capabilities with the help of our fast, flexible and universal data indexer. We are excited to be a part of Injective's mission to drive innovation in the decentralized finance sector."
SubQuery provides decentralised data indexing infrastructure to developers building applications on multiple layer-1 blockchains. As an open data indexer that is flexible and fast, the open indexing tool helps developers build APIs in hours and quickly index chains with the assistance of dictionaries (pre-computed indices).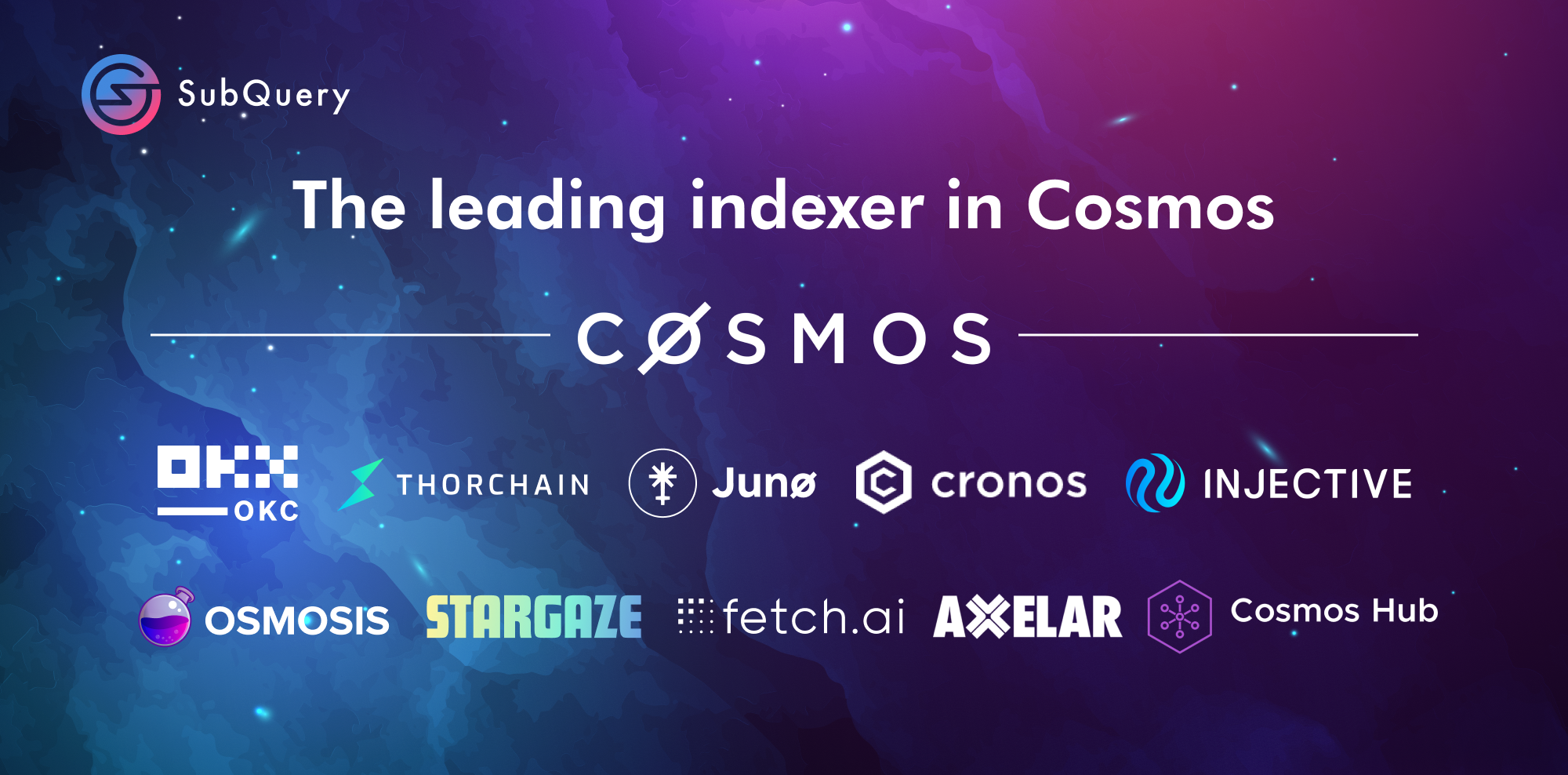 Engineered for multi-chain applications, SubQuery's tools allow developers to organize, store, and query on-chain data for their protocols and applications. SubQuery eliminates the need for custom data processing servers, helping developers focus on product development and user experience.
Now, the open-source SubQuery software-development-kit (SDK) not only supports EVM, WASM and CosmWasm smart contracts, it fully supports the Ethermint EVM implementation, including custom application binary interfaces (ABI's) and smart contracts.
After establishing itself as the leading data indexing solution on Polkadot, by serving hundreds of millions of queries daily, SubQuery has expanded to serve other Layer-1 blockchains within the Cosmos ecosystem in addition to NEAR, Algorand, Flare and Avalanche.
Key Resources
About Injective
Injective is a lightning fast interoperable layer one blockchain optimized for building the premier Web3 finance applications. Injective provides developers with powerful plug-and-play modules for creating unmatched dApps. INJ is the native deflationary scarce asset that powers Injective and its rapidly growing ecosystem. Injective is incubated by Binance and is backed by prominent investors such as Jump Crypto, Pantera and Mark Cuban.
Website | Telegram | Discord | Blog | Twitter | Youtube | LinkedIn | Reddit | Instagram | Orbit Newsletter
About SubQuery
SubQuery is a blockchain developer toolkit facilitating the construction of Web3 applications of the future. A SubQuery project is a complete API to organise and query data from Layer-1 chains. Currently servicing Polkadot, Avalanche, Algorand, NEAR, Cosmos and Flare projects, this data-as-a-service allows developers to focus on their core use case and front-end without wasting time building a custom backend for data processing activities. In the future, the SubQuery Network intends to replicate this scalable and reliable solution in a completely decentralised manner.
​​Linktree | Website | Discord | Telegram | Twitter | Matrix | LinkedIn | YouTube