The latest SubQuery Monthly Update is here again! Throughout the past month, the SubQuery team has been hard at work developing new features, enhancing existing tools, and extending our indexing support throughout the Web3 ecosystem. We have achieved a number of important milestones, including expanding our indexing support to NEAR and Axelar Network, launching new partnerships with Secret Stash and Starfish, and developing new features that make it easier than ever for developers to index their blockchain applications.
As always, we are breaking down our monthly update into three sections: Community, Core Product Development, and the SubQuery Network.
Community
As we're preparing to attend the ETHDenver and ETHPorto in March, we took the February to focus on our online community with our Twitter spaces!
Skynet Twitter spaces
Last month, we had the pleasure of hosting Michael Eerhart, Head of Strategy at Skynet Trading, on our Twitter spaces to discuss the topic of market making and liquidity for digital assets. Skynet Trading is a leading market maker in the cryptocurrency industry, providing liquidity solutions for various digital assets.

During the Twitter spaces, Michael shared his expertise on the importance of market making and liquidity in the digital asset space. He emphasized that liquidity is a crucial component for any market to function efficiently, as it allows investors to buy and sell assets with ease. Without sufficient liquidity, markets can become illiquid, leading to price instability and reduced trading activity.
Heroes of NFT Twitter spaces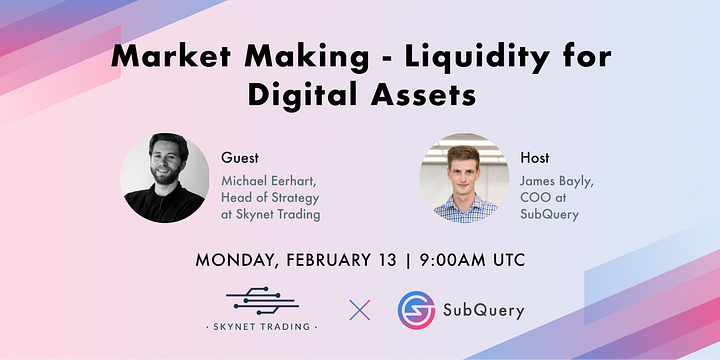 James Bayly, the COO of SubQuery, was invited to join a Twitter spaces call hosted by Heroes of NFT to discuss our fast & flexible data indexing solution. The call focused on the importance of data indexing and how it can help developers to build better and more efficient blockchain applications.
James shared his insights and expertise on the topic, explaining how SubQuery's indexing solution provides developers with the tools they need to quickly and easily access data from various blockchain networks. He emphasized how this can help developers to build more robust and efficient applications, enabling them to take full advantage of the benefits of blockchain technology.
Core Product Development
SubQuery Now Supports NEAR Protocol!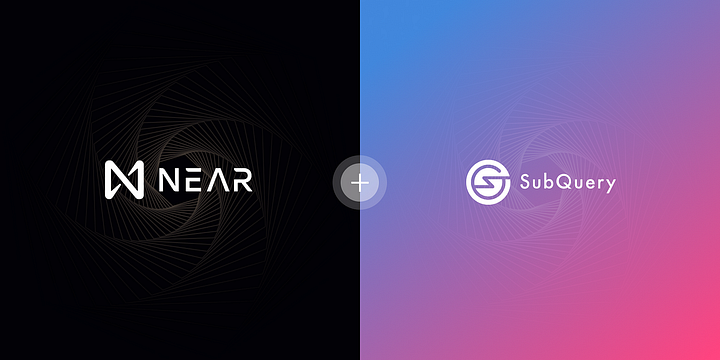 NEAR has been on our radar since day one due to its speed, security and scalability. SubQuery continues to deliver on its promise of fast, flexible, and feature-rich multi-chain support with the announcement of our support for NEAR! Quality infrastructure is fundamental for the development and growth of any blockchain, and NEAR recognized SubQuery as one of the key pieces of Web3 infrastructure. Thus the integration was made possible thanks to a strategic partnership with NEAR Protocol.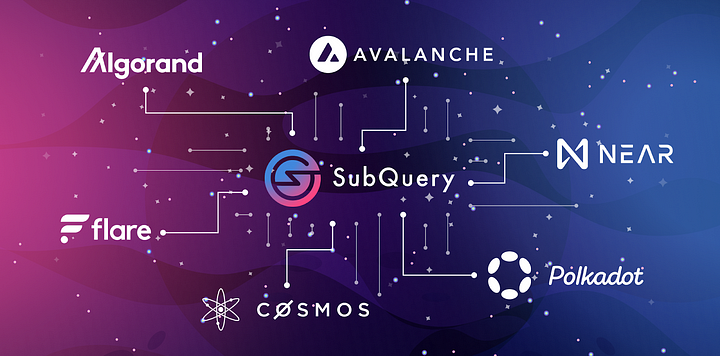 NEAR will benefit from the full SubQuery experience, including the open-source SDK, quick start guides, detailed developer documentation, developer support, and other benefits developers receive from the SubQuery ecosystem. Additionally, NEAR is accommodated by SubQuery's managed service, which provides enterprise-level infrastructure hosting and handles hundreds of million requests each day.
Project Alerting via Webhooks (e.g. Slack or Discord)
SubQuery is thrilled to announce the release of our latest feature for the SubQuery Managed Service, Project Alert Notifications! This new feature allows you to receive webhook alerts on the health status of your projects. This means you can be alerted in real-time when your project becomes unhealthy and you can quickly resolve the issue to avoid any impact to your users. Setting up a webhook endpoint is straightforward and can be done easily on the Alerting page inside of the Managed Service. Read the docs now to learn more.
Other Managed Service improvements from this past month:
A new look eExplorer 🌼 We've released new updates to refresh our Explorer on our Managed Service!
Purge your database on deployment 💥 As requested, you can now enable a toggle which will purge the database and project schemas. This is helpful to use when iteratively developing GraphQL schemas in order to have a clean state when redeploying a project.
Improved Email Notifications 💪 We thought it was important to improve the communications our users receive based on your actions within the Managed Service. We've added several email notifications with valuable information to guide you in your next steps.
A New Domain Name 🏠 We've retired the project.subquery.network domain and instead changed the SubQuery Managed Service to something more intuitive, be sure to bookmark the new domain name: https://managedservice.subquery.network
Terms of Service 📚 We want to advise that we have released an updated SubQuery Terms of Service, effective 23rd February 2023. The full Terms of Service document can be found here.
Documentation Updates
We've got a brand spanking new Documentation homepage for you! Take a peek at the improved Academy ➡ academy.subquery.network. The new Academy homepage:
Makes it faster to skip right to the relevant docs that you're looking for
Highlights the wide chain support that we provide
Shows off some more advanced features which SubQuery provides that other indexers don't
Matches our brand!
Additionally, we've published a project optimisation guide to help you make all your projects run faster and smoother. Finally, another new guide about how to run high performance SubQuery infrastructure! If you run open source SubQuery projects in your own hosting environment, check out these tips & tricks on how to optimise this hosting
New Partnership: Secret Stash Uses SubQuery to Power their NFT Marketplace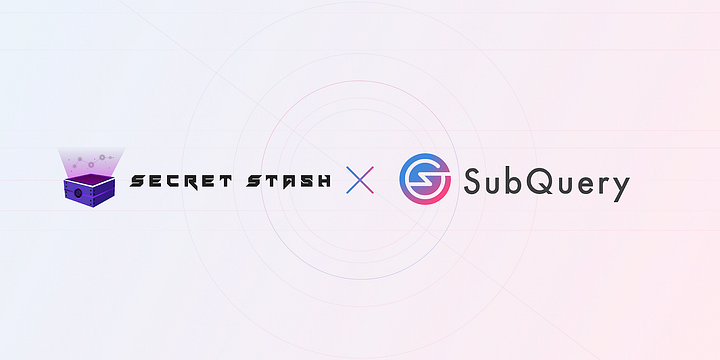 We're happy to announce our partnership with Secret Stash! Secret Stash is the first digital marketplace for Ternoa assets. Ternoa is the first NFT-centric blockchain.
Secret Stash are using SubQuery to efficiently retrieve on-chain data for the NFTs featured in their marketplace. This makes it incredibly convenient for them to manage various features such as Secret NFTs, auctions, and rental contracts; all of which are based on subql entities.
One of the major challenges Secret Stash faced before using SubQuery was the difficulty in fetching and parsing on-chain data. The scattered nature of data storage on the blockchain often led to a frustrating experience for developers. SubQuery has solved this problem for Secret Stash by providing a user-friendly development tool for extracting, querying, sorting and filtering relevant on-chain data for NFTs and account balance history.
SubQuery Announces Integration with Axelar Network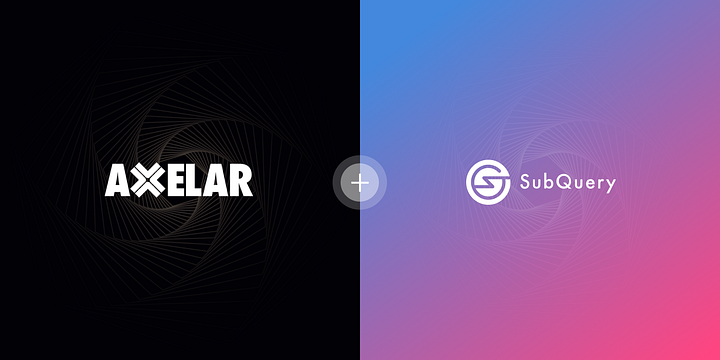 Axelar Network is the latest Cosmos Zone to receive indexing support from SubQuery, just after the recent announcement of Thorchain support. The integration with Axelar Network comes as a part of SubQuery's continuous effort to support all zones within the Cosmos ecosystem.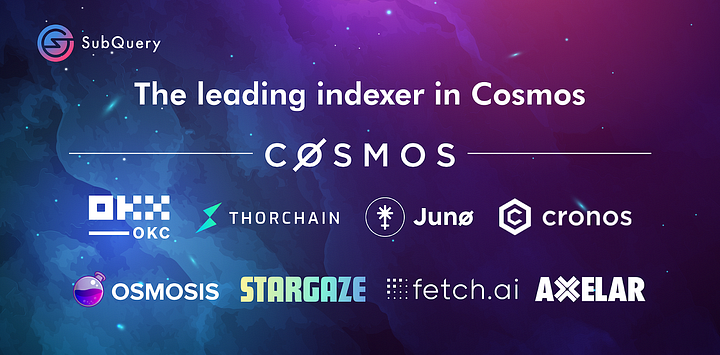 As of last month, SubQuery supports all of the following Cosmos zones: OKCNetwork, THORChain, Osmosis, Juno, Cronos, Fetch.AI, Axelar and Stargaze. We offer full support for CosmosSDK, CosmWasm, and Ethermint, further solidifying our position as a leading data indexer in the blockchain space. SubQuery provides decentralised data indexing infrastructure to developers building applications on multiple layer-1 blockchains including the Cosmos ecosystem, Polkadot, Algorand, Flare and Avalanche. As an open data indexer that is flexible and fast, it helps developers build APIs in hours and quickly index chains with the assistance of dictionaries (pre-computed indices).
SubQuery Powers Starfish Finance with our Fast Data Indexing Tools
This February we also announced our partnership with Starfish Finance, a one-stop-shop on Astar Network to provide users with DeFi, $DOT Liquid Staking and new project discovery.
For Starfish Finance, data indexing is very important. Starfish use the contract factory pattern in their contracts, so SubQuery's data indexing service helps them to create a new instance to listen to data from a new contract deployed by the factory contract.
Starfish said they have tried other data indexing tools as well, but they had problems where the other indexers either were not able to index data successfully, or had a steep learning curve. SubQuery proved itself as the best indexing solution for their needs, with fast & reliable indexing as well as easy implementation.
SubQuery Network
We've been deep in the Development of Kepler, the first phase of the launch of  the SubQuery Network. It will enable thousands of users to progressively adopt the decentralised features of the network and earn real rewards for their efforts.
Last community call, we shared that we've selected 308 indexers from across seasons 2 and 3 of the SubQuery Frontier test network to receive kSQT airdrop. kSQT is the utility token of Kepler, and will be burnable in exchange for SQT once the main network fully launches and SQT is released. This kSQT airdrop is designed to give indexers everything they need to begin acting as an indexer in Kepler, and is targeted to indexers based on the number of points scored in the SubQuery Frontier test network. Soon we'll announce the full list, and you'll be able to claim your airdrop from airdrop.subquery.foundation 💪
Other things you might have missed

FUD alert! There's some FUD going around that SubQuery can't support external libraries and API calls from within your project🙄 SubQuery is the most flexible multi-chain indexer out there, so this claim is definitely not true. Read more in our thread!
We've updated our docs with info on how to run high performance SubQuery infrastructure! ⚡ If you run open source SubQuery projects in your own hosting environment, check out these tips & tricks on how to optimise this hosting.
We've got a brand spanking new Academy homepage for you!
P.S. Remember to join our Discord and our social channels to stay updated on our latest news and announcements!
The SubQuery Team
Linktree | Website | Discord | Telegram | Twitter | LinkedIn | YouTube