The latest SubQuery Monthly Update is here again! Throughout the past month, the SubQuery team has been hard at work developing new features, enhancing existing tools, and extending our indexing support throughout the Web3 ecosystem. We have achieved a number of important milestones, including expanding our indexing support to Arbitrum, Evmos, Comdex, Persistence, Centrifuge and Kava, and announcing the SubQuery SDK V2.0 — our biggest release yet with enhanced performance and new features. We have also successfully launched our Kepler Network and shared the newest stats with our community.

As always, we are breaking down our monthly update into three sections: Community, Core Product Development, and the SubQuery Network.
Community

Conference Summer Has Started!
While this is a monthly recap for May, we wanted to include a quick note on the conferences that are happening in June. SubQuery has embarked on an exciting journey across Europe this summer! Led by our COO James Bayly and accompanied by our Technology Evangelist Marta Adamczyk, SubQuery is making waves at various crypto conferences throughout the continent.

If you're at one of these thrilling crypto conferences, make sure to seek out James and Marta to discover the transformative power of decentralized data indexing firsthand! Feel free to DM either Marta or James if you'd like to meet up.

Find the full list of the conferences we will be attending this June and July here:

Core Product Development

SubQuery Expanded Indexing Support to: Arbitrum, Kava, Evmos, Persistence, Centrifuge, and Comdex!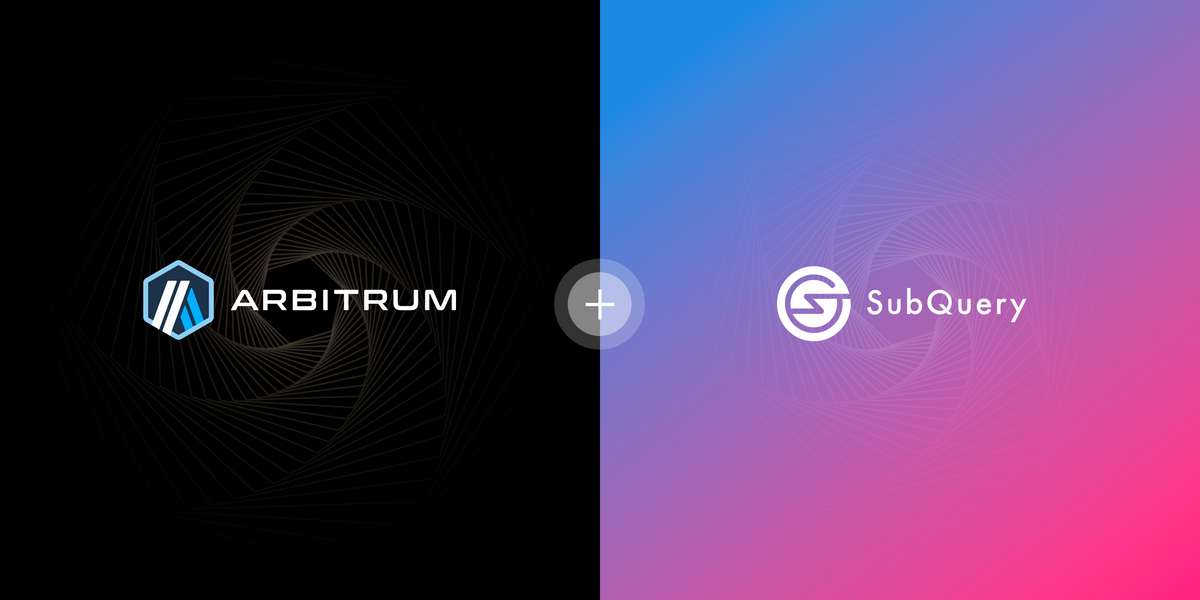 This May we announced support for our next Layer-2 scaling solution: Arbitrum. Arbitrum developers on both Arbitrum One and Arbitrum Nova can benefit from the superior SubQuery indexing experience, including our open source SDK, managed service, upcoming decentralised network, and developer support that the SubQuery ecosystem provides.

We're always striving to provide developers with the most comprehensive and efficient indexing solutions possible. Despite being a beta release, SubQuery has already proven to be faster than The Graph on Ethereum and its layer-2s, offering Arbitrum developers another decentralised alternative with the impending launch of the SubQuery Network. That's why we were thrilled to announce this latest integration with one of the most exciting Layer-2 scaling solutions in the Web3 space.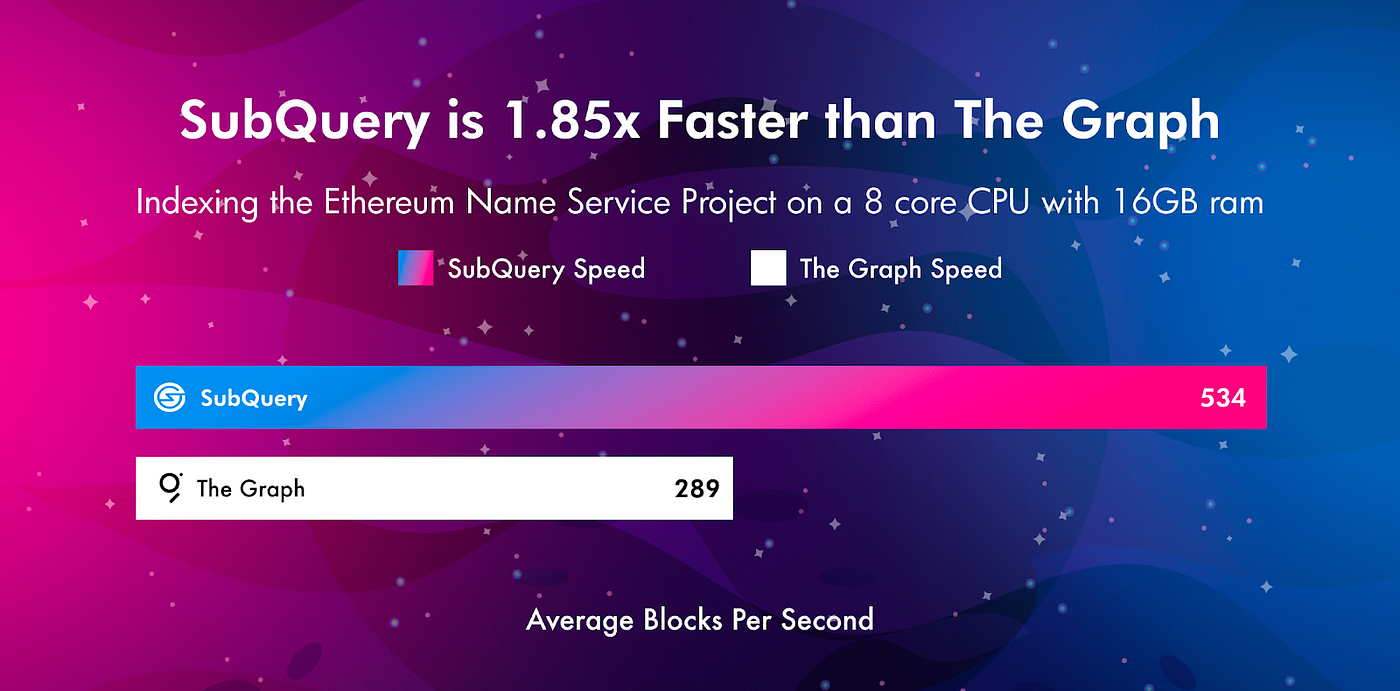 ⎯
We also expanded our indexing support to 5 other chains this month as well: Kava, Evmos, Centrifuge, Comdex and Persistence.
The developers on these chains will benefit from the superior SubQuery indexing experience, including the open-source SDK, tools, documentation, and developer support that the SubQuery ecosystem provides. They are also supported in SubQuery's enterprise level managed service, which provides enterprise level infrastructure hosting and handles hundreds of millions of requests each day.
Introducing SubQuery SDK V2.0 — Our Biggest Release Yet with Enhanced Performance and New Features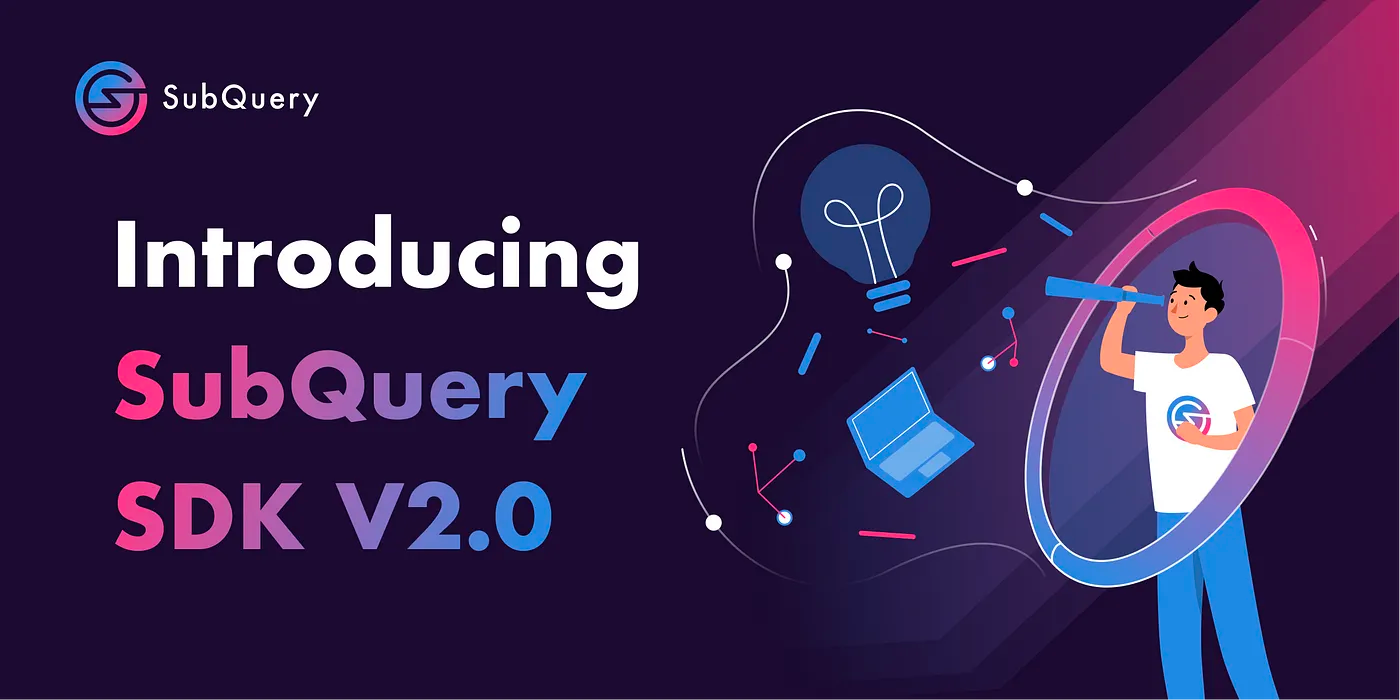 We were thrilled to announce the latest release of SubQuery SDK — v2.0. This is our biggest release yet and brings a number of changes to the leading Web3 data indexer, featuring significant performance improvements and powerful new features. With a commitment to providing the best possible experience for developers and users, we've focused on addressing key pain points and optimising efficiency in ways that all of our customers will benefit from.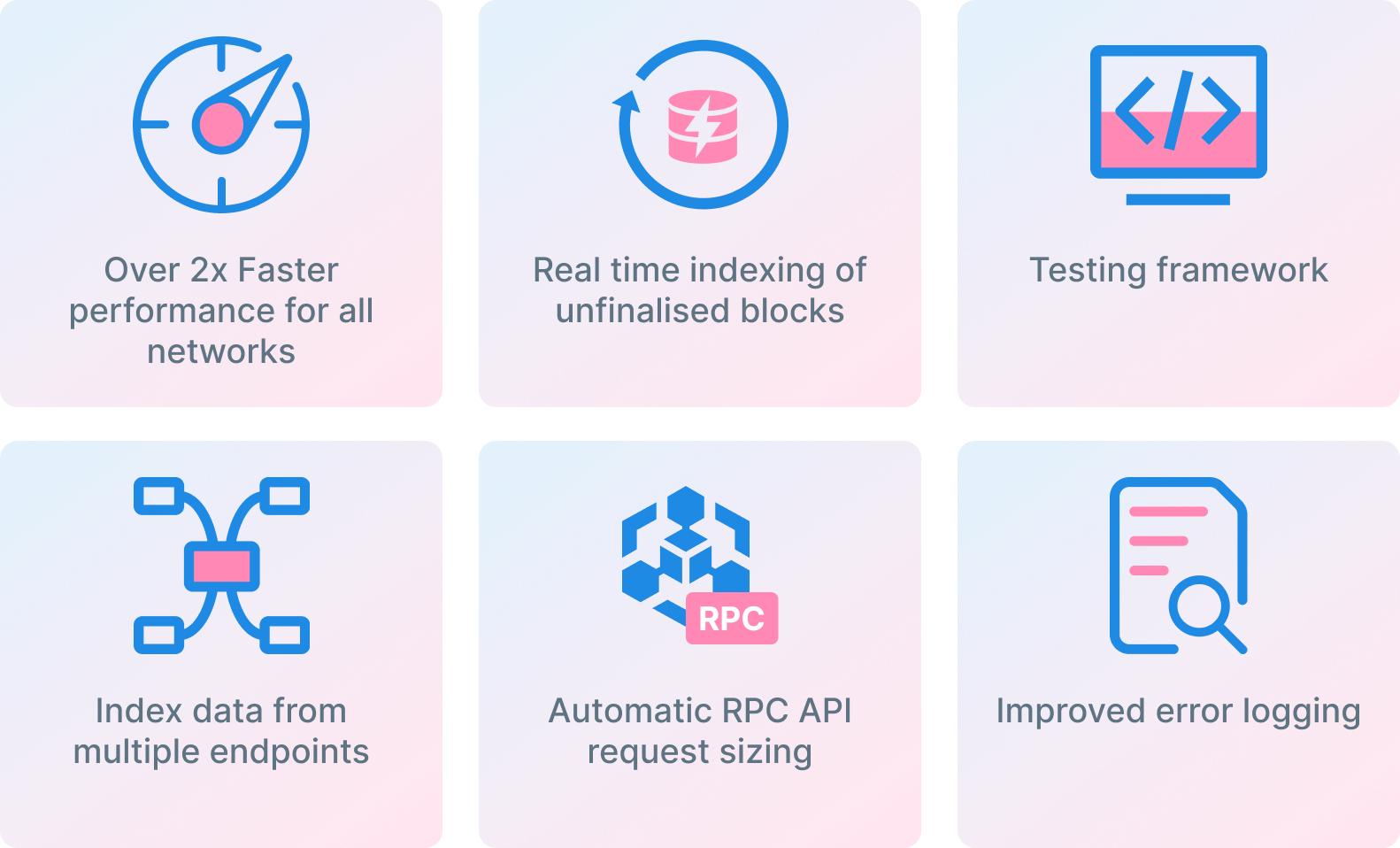 Here's an overview of the exciting updates in SubQuery 2.0:

2x Faster Performance across All Networks
Real-Time Indexing of Unfinalized Blocks
Testing Framework
Index Data from Multiple RPC Endpoints
Automatic RPC API Request Sizing
Improved Error Logging

Read more in our recent article here. If you have any questions, please reach out to Sean Au or James Bayly, or contact our Discord Technical Support.

Avalanche SDK Migration Update
Hello Avalanche builders! In May we shared some important news around some code changes that you need to do to take advantage of some improvements that were made.

The new versions of SubQuery bring some massive performance improvements and support for new features. Plus, the migration process is a breeze and should only take a few minutes of your time.

We stopped supporting @subql/node-avalanche and replaced it with @subql/node-ethereum. The SDKs were largely identical and we are reducing the number of packages that we support, allowing us to deliver new features to you faster.

To find out more read our recent article.
SubQuery Network
Kepler Network Update #1: Progress, Rewards, and Engagement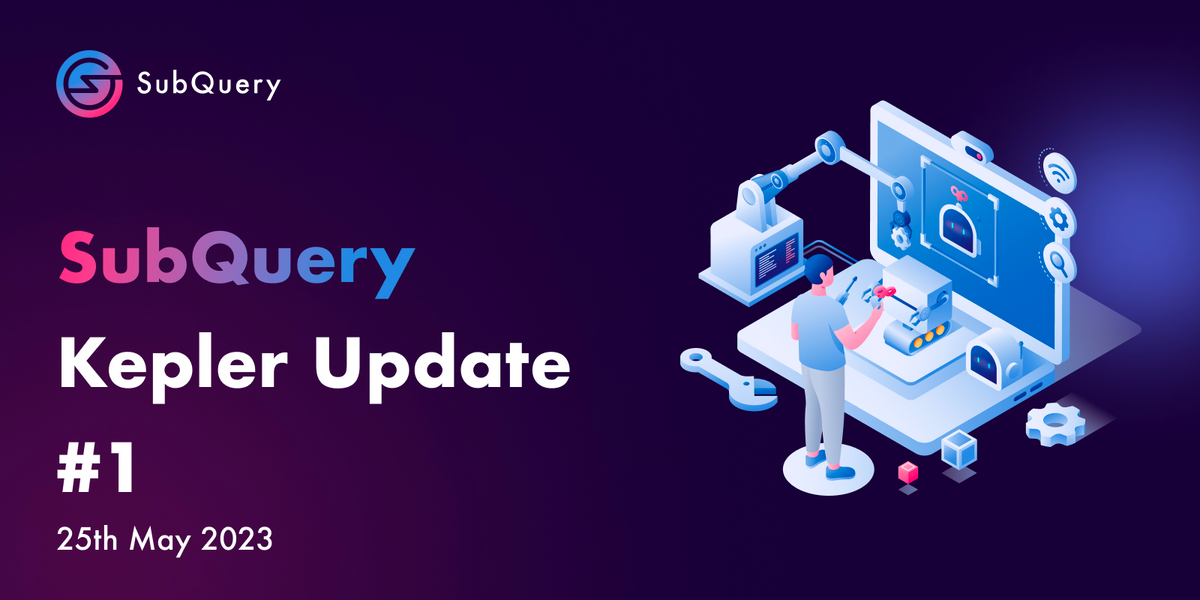 Kepler represents the next stage of development for SubQuery and is the last one before we launch our decentralised SubQuery Network. The Kepler network is the "pre-mainnet" of SubQuery that will enable thousands of users to progressively adopt the decentralised features of the network and earn real rewards for their efforts.
The first three weeks of Kepler's journey can be categorised into three key stages, each contributing to the network's growth and stability.
Week 1: Onboarding Indexers
Week 2: Analysing Indexers
Week 3: Beginning to Reward Indexers
To find out more about Kepler's progress, read our recent Kepler Update.
The SubQuery Kepler Swap is Live!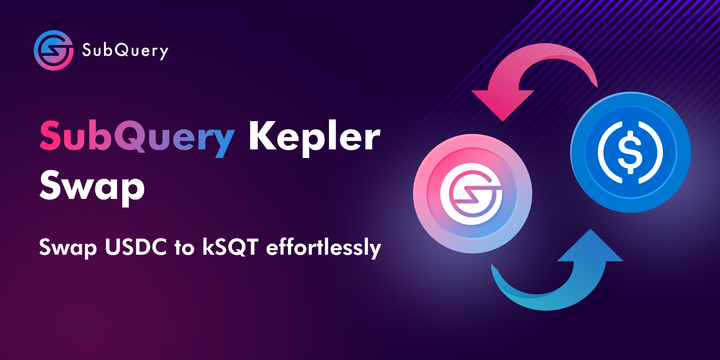 We launched the latest feature on the Kepler Network: Kepler Swap. With Swap, users can conveniently exchange USDC to kSQT (and vice versa) to reimburse infrastructure costs incurred by the indexers.
kSQT is the name of the token that is used by participants who operate within the Kepler Network. This token mimics the properties of the eventual SubQuery Network token (SQT) in that tokens will be rewarded to Indexers for performing tasks and Delegators can allocate their tokens to indexers to secure the network and receive rewards. Kepler is designed to enable participants to provide value to real projects which are migrated from SubQuery's managed service to the decentralised offering and receive incentives via the Kepler token (kSQT).
Find out more in our latest article here.
Other things you might have missed

P.S. Remember to join our Discord and our social channels to stay updated on our latest news and announcements!

About SubQuery
SubQuery is a blockchain developer toolkit facilitating the construction of Web3 applications of the future. A SubQuery project is a complete API to organise and query data from Layer-1 chains. Currently servicing Ethereum, Polygon, BNB, NEAR, Polkadot, Avalanche, Algorand, Arbitrum, Cosmos and Flare projects, this data-as-a-service allows developers to focus on their core use case and front-end without wasting time building a custom backend for data processing activities. In the future, the SubQuery Network intends to replicate this scalable and reliable solution in a completely decentralised manner.
​​Linktree | Website | Discord | Telegram | Twitter | Matrix | LinkedIn | YouTube