We are working hard to help every developer learn how to use SubQuery to explore and transform their chain data so they can build intuitive dApps faster.
Today we launch our new documentation website at doc.subquery.network. We have carefully redesigned it with our community in mind and we're excited to share it with you.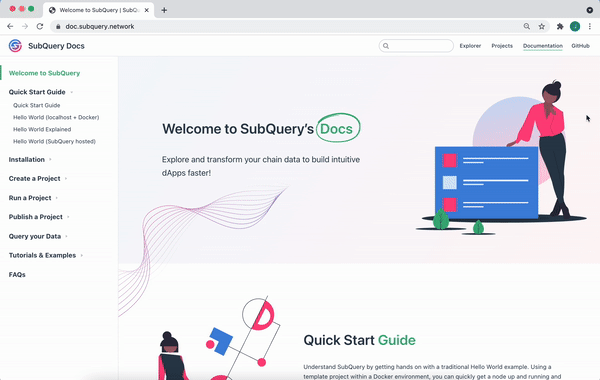 "Documentation may not be glamorous work but it plays a vital role in communicating how something works and allows us to empower our community members to learn and unleash their creativity. That is why we believe documentation is so important" — Sean Au (SubQuery Academy)
Our new documentation website has an inviting landing page designed to welcome all users, regardless of their technical understanding of blockchain or Polkadot. From the landing page users can jump straight into a getting started tutorial, or navigate off to the help they need.

Traditionally, blockchain documentation is incredibly technical and littered with jargon — you have to come from a developer background to easily understand it. We've taken a different path and written content for users at all levels of experience.
Our goal is to publish a tutorial for every piece of major functionality in SubQuery. That means a step-by-step video and written guide with working examples as outcomes — you can see the beginnings of our efforts here in the Tutorials Section.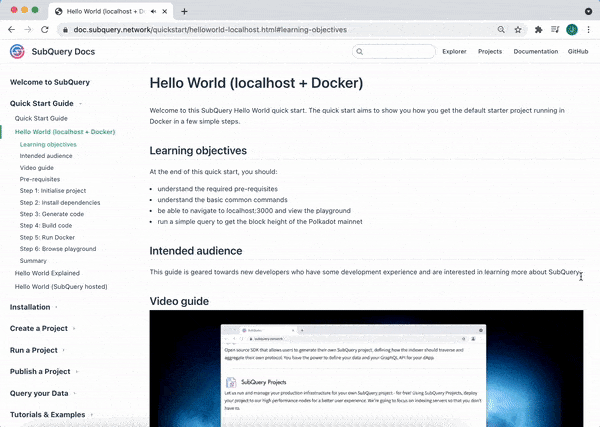 Q0EMGudm0QW09g.gif)